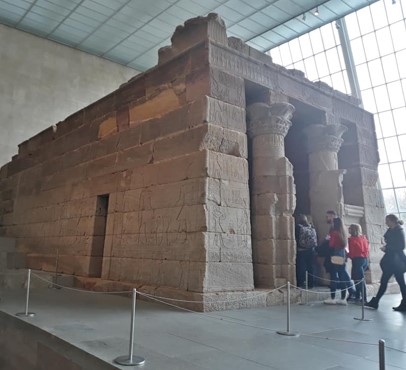 The Temple of Dendur that we can contemplate in the Metropolitan Museum of Art (MET), is considered the oldest building in the city of New York. Yes, from New York! How does this Egyptian temple reach the other side of the world?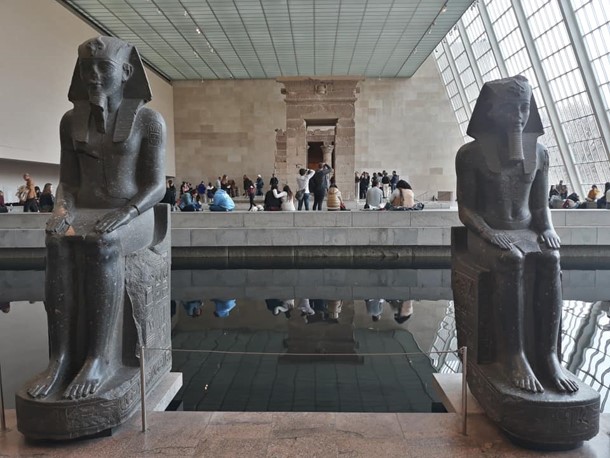 In 1960, when building the Aswan dam, the threat of flooding by its reservoir, Lake Nasser, was imminent. The monuments and archaeological sites of Nubia, such as the temple of Abu Simbel, will be in danger. It is when UNESCO gives the international alert voice to save these sites. In gratitude, Egypt donated four monuments to the countries that responded to this claim in a very significant way. Dendur to the United States, Ellesiya to Italy (Egyptian Museum of Turin), Debod to Spain (Madrid) and Taffa to the Netherlands (Rijksmuseum van Oudheden of Leiden).

The temple owes its name given it was erected in Dendur, in Lower Nubia, near the Nile. It was commissioned by the Emperor Augustus and built in the time of Gaius Petronius, prefect of Egypt, around 15 BC. C. It is dedicated to the goddess Isis, as well as to two sons of a deified Nubian chief, Peteese and Pihor.
The main building is built with sandstone ashlars and measures about seven by thirteen meters. The terraced area is about thirty meters wide. The set measures 25 meters long and eight meters at its highest point.

Although it is small compared to the temples that still remain in Egypt, Dendur has all the essential components of a temple: a door, a portico (pronaos), a chamber for offerings and a sanctuary. The columns are topped by plant capitals and the reliefs on the walls show the pharaoh making offerings to the gods.
The temple was transformed into a Coptic Christian church in the year 577, suffering logically, various modifications. The interior was revoked and painted, however, these additions have almost completely vanished over time. Thank God!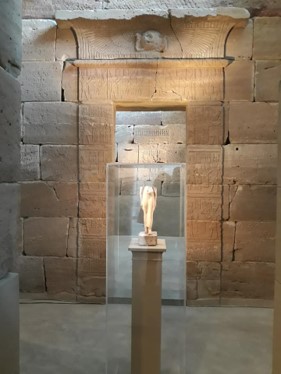 The temple was dismantled in 1963 and the 642 blocks were preserved on the island of Elephantine. It was donated to the United States by the Arab Republic of Egypt in 1965, transported by ship to New York, and ceded to the Metropolitan Museum of Art in 1967, conditioned to provide an adequate environment.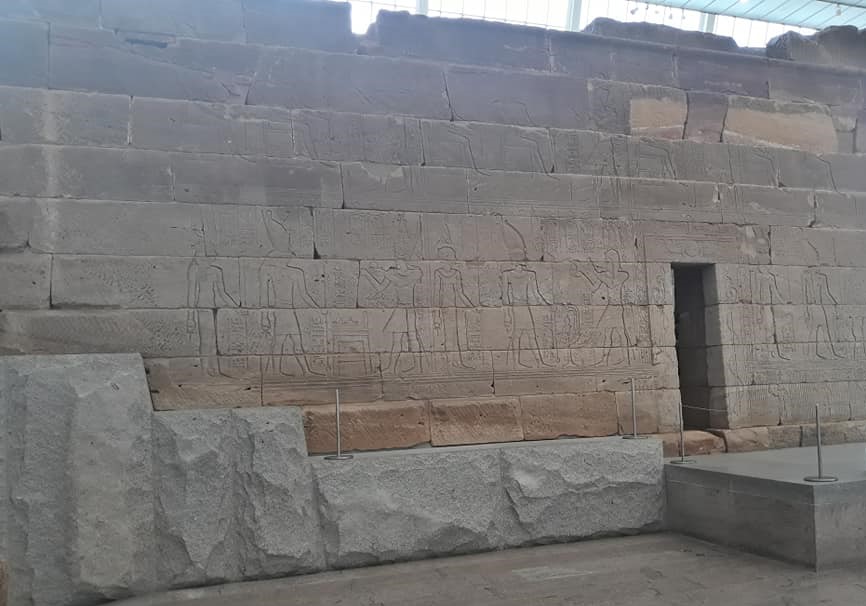 Since 1978 he is exhibited at the Metropolitan Museum of Art. The MET has done a great job in creating the right atmosphere for the temple, which includes a small pond, just like in ancient Egypt.