Walking along the Avenida de la Constitución in the city of Seville, you can see very beautiful buildings, with a variety of styles, depending on the time when they were built. However, there is one in particular that has us in love and that every time we visit this beautiful city, we have to stop to admire it, it is the Edificio de La Adriatica.
The Adriatica Building was popularly known as "Edificio Filella", because of the confectionery that was located for many years on the first floor and that many Sevillians were able to enjoy the delicacies that were made there.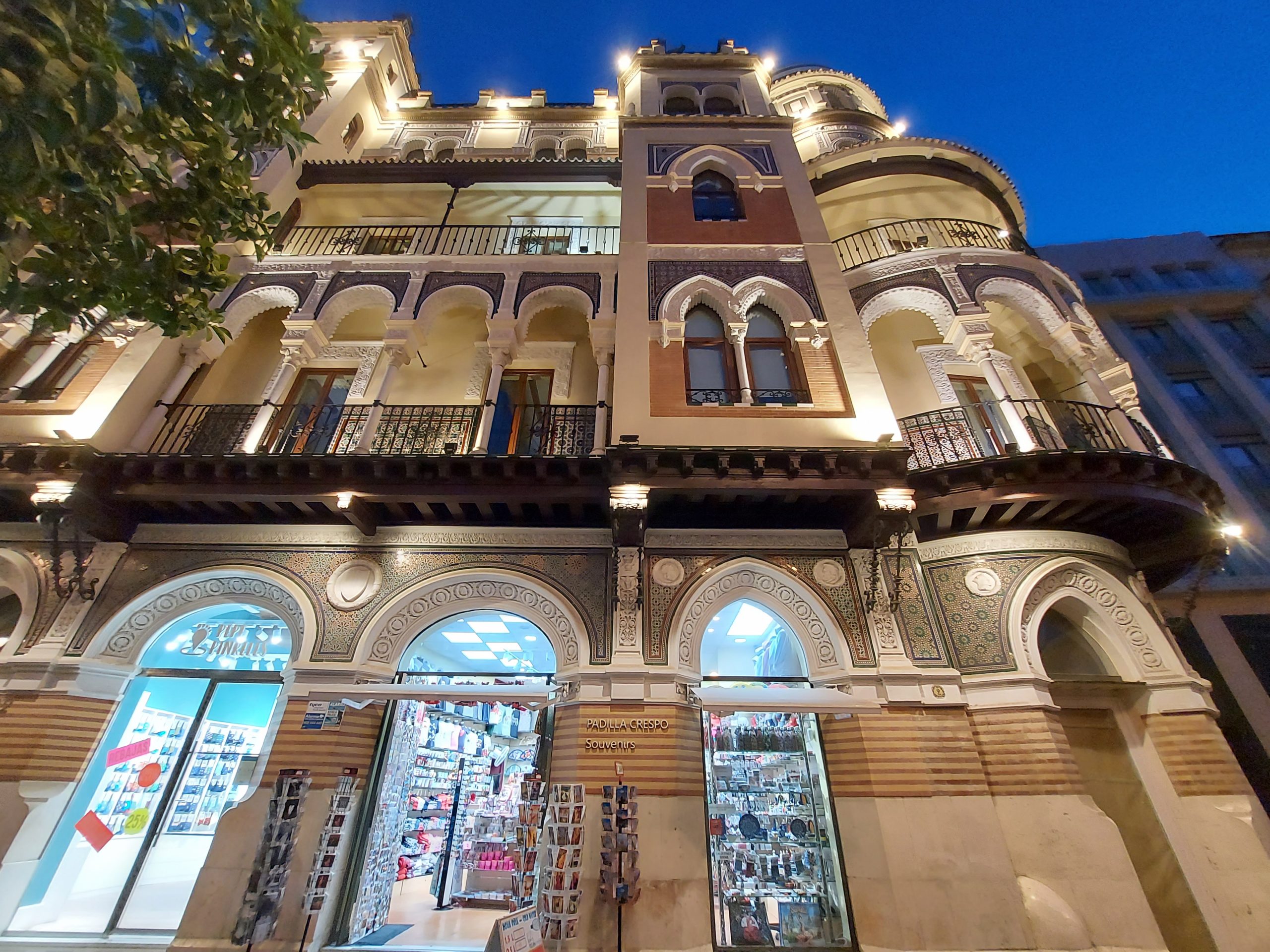 The construction of this building took place at the height of the construction boom in the city of Seville due to the opening and widening of the Avenue, and close to the great event of the Ibero-American Exposition of 1929.

About La Adriatica, this was a very important insurance company that had the habit of building headquarters in each of the cities where it operated. This happened for the first half of the 20th century, if we go by the construction of the Adriatica Building, which took place between 1914 and 1922. It is the work of the architect José Espiau y Muñoz, who was one of the main representatives of the regional architecture of the first half of the twentieth century doing almost all his work in the city of Seville. In fact, although the City of London building is the work of Espiau y Muñoz, it is the La Adriatica building that generates the most interest.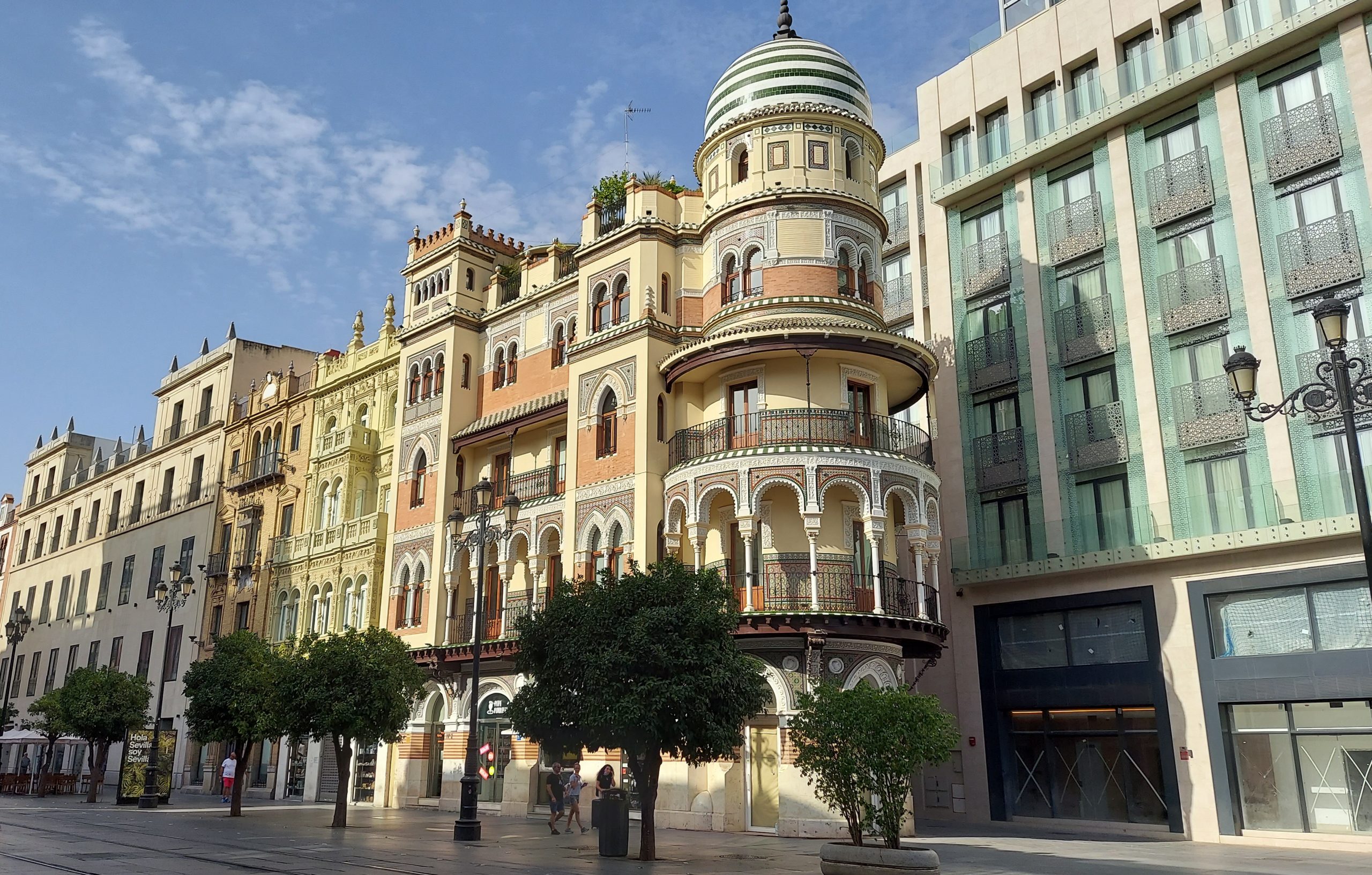 The Adriatica building is a clear example of eclectic architecture. The mixture of styles is unique and it is surprising how harmoniously they are shown to the viewer. Thus we have, from Mudejar to Plateresque and Gothic, combined with wooden elements, ceramic domes, tiles and wrought iron elements.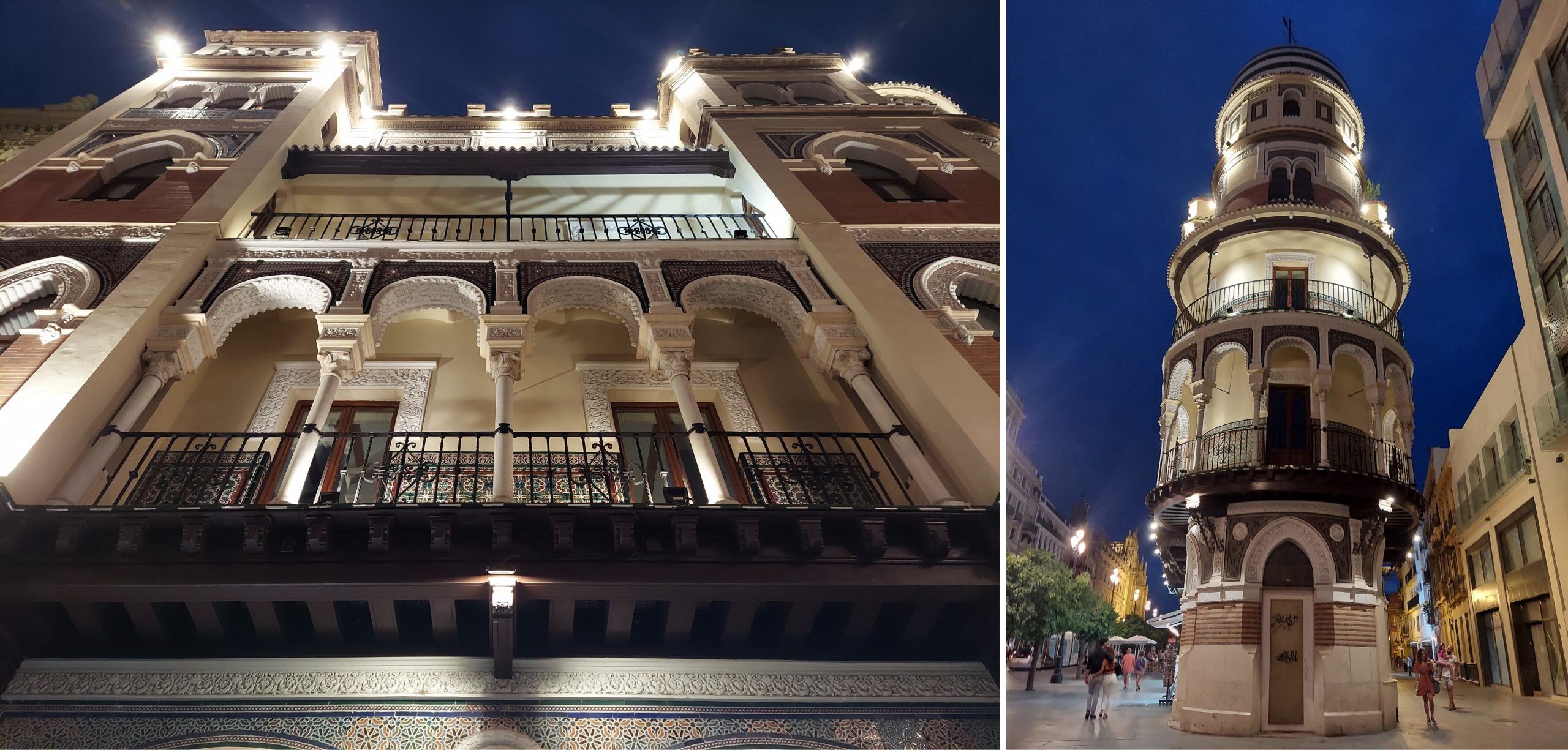 Its architect, taking advantage of the location on a triangular site, designed a unique building. The most visually outstanding element of the building is its circular viewpoint on the corner, in the narrow angle formed at the confluence of the two streets.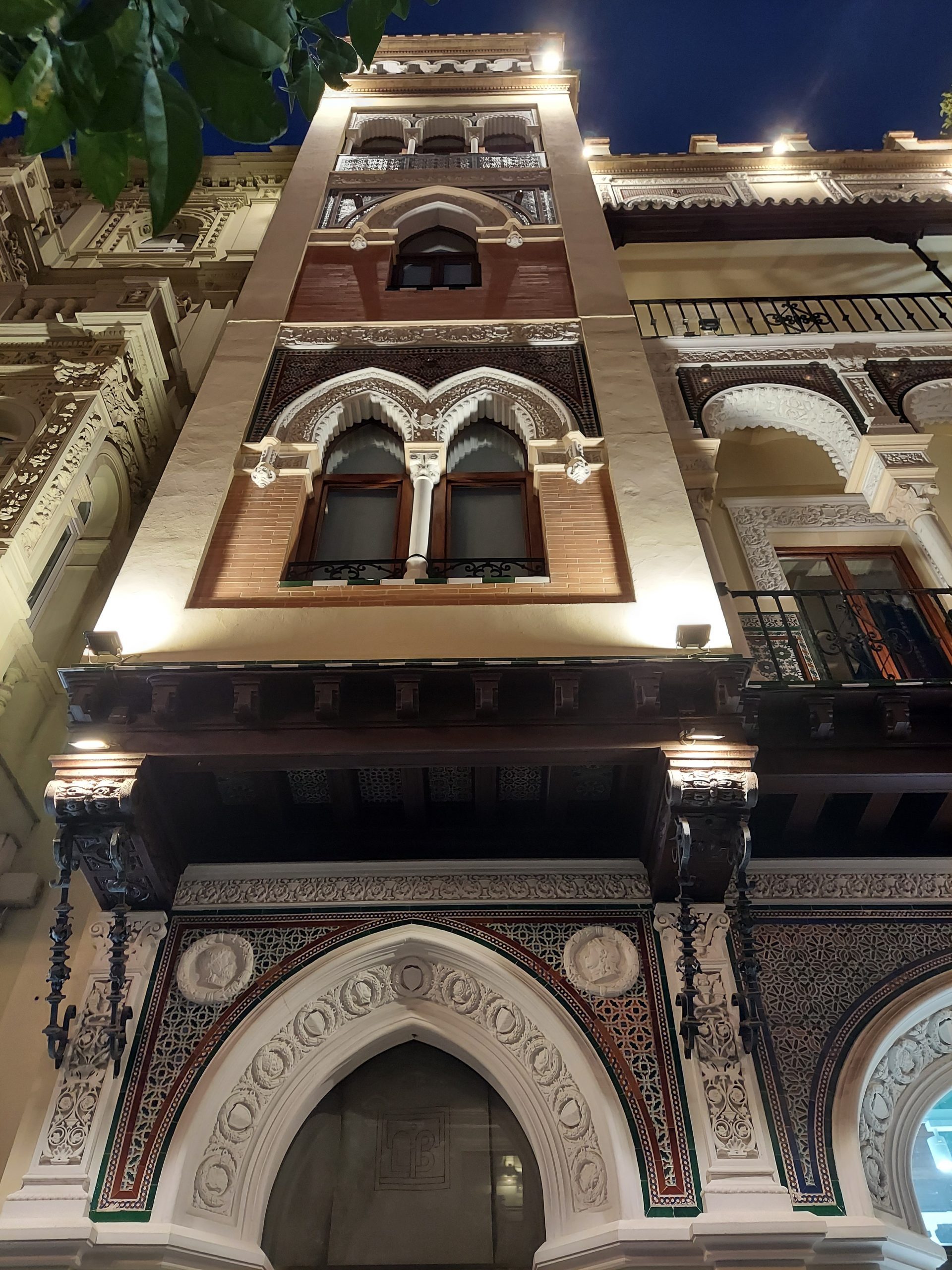 Surprising is the use of color based on the combination of red brick panels with other smooth cream-colored ones, the polychrome ceramics, and the classic frieze strips with grotesque reliefs framing openings, and on exterior pilasters separating the arches of the curved belvedere.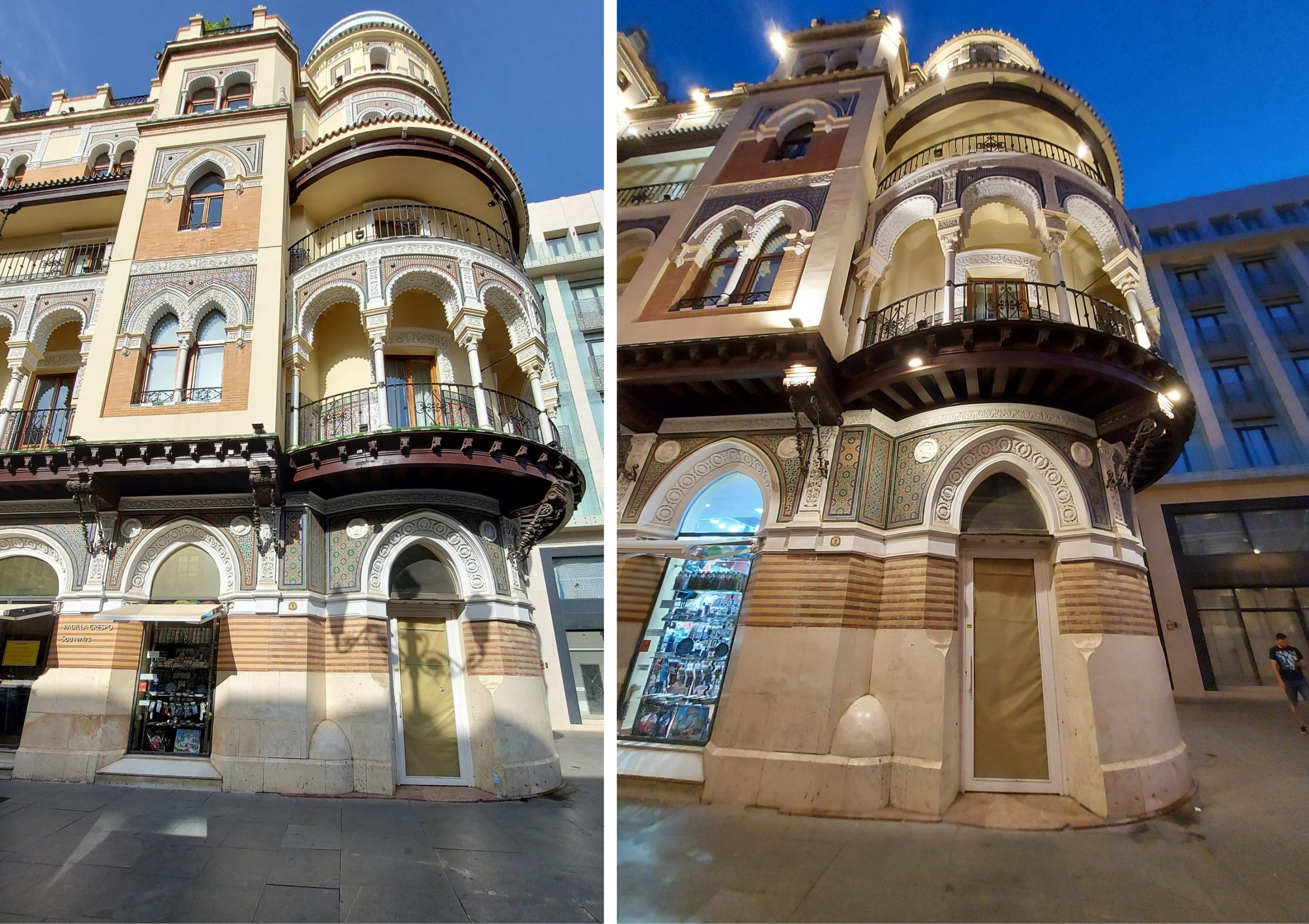 In short, whether by day or night, there is no building of the 20th century, more beautiful in Seville, than the Edificio de La Adriatica.
---
Resources:
https://viajeraymochilero.com/edificio-de-la-adriatica/

https://es.wikipedia.org/wiki/Edificio_La_Adri%C3%A1tica_(Seville)

https://curiosasevilla.blogspot.com/2020/06/edificio-la-adriatica-o-filella.html

https://www.timeout.com/es/sevilla/que-hacer/edificio-la-adriatica